Inflatable Backpacking Sleeping Pad With Pillow
Get The Best Night's Sleep In Any Position And On Any Surface!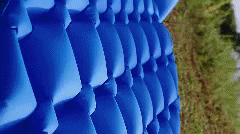 Imagine the freedom of being able to sleep anywhere without having to give up your comfort.
Whether you're a back or slide sleeper, waking up with soreness is a nightmare of the past with HitorHike™ Sleeping Pad With Pillow!
HIKE LIKE A CHAMP AND SLEEP LIKE A BABY!
Are you sick and tired of camping on rocky, chilly, and rough terrain? The great outdoors can be extremely painful on your back, neck, and body. Most importantly, restorative rest is essential after a day of adventure.
HitorHike™ will have you in such a deep sleep that you'll sleep through a bear destroying your campsite! (Note: Please educate yourself before adventuring the wilderness.) And best of all, it doesn't require you to break the bank for a decent night's rest outdoors!
ULTRALIGHT
No need to carry around a big bulky sleeping mattress that adds extra unnecessary weight. Coming in at just over 16oz, it provides maximum comfort in a lightweight and compact size.
It is so compact and lightweight that you'll never go back to a closed-cell foam pad ever again!
INNOVATIVE DESIGN
Never wake up on the ground ever again! It is designed with a double sealed valve that completely seals and prevents air from leaking out during the night. This valve will also keep the air inside sealed after each breath you blow into it.
It is super easy to inflate. Your best night's sleep under the stars is only 10-15 breaths away!
THE SAME SIZE AS A WATER BOTTLE!
It is 75in x 23in when fully inflated. When deflated, this pad is so small that when packed into its carrying bag, many of our customers compare it to fitting a water bottle in their bags.

IT COMES WITH A BUILT-IN PILLOW!
As a backpacker, you know just how important it is to utilize as much equipment as possible that takes up very little room and won't weigh you down.
Having a sleeping pad with a built-in pillow is a huge advantage. You'll save space in your pack, carry less weight, and enjoy the convenience of a pillow and pad all in one tiny package!
DURABLE AND SUPPORTS HEAVYWEIGHT
It can support up to 150KG's (330 Pounds). This excellent sleeping pad is for everybody. Its 144 flexible air cell design will provide maximum comfort in any position on any surface.
As a side sleeper, you will no longer have to wake up with sore hips! Made with 40D nylon TPU, it can stand the test of rocks, pine needles, and supporting heavier weights.
INVEST TODAY AND IMPROVE YOUR ADVENTURE!
Let's face it, without proper sleep, you will not be on top of your camping or hiking game. That sleeping bag you have had for years may keep you warm but inevitably stops short of providing you enough cushion for a decent rest.
Do yourself a favor, and do not sell yourself short of having a wonderful and memorable time. Once you invest in the HitorHike™ Sleeping Pad With Pillow, you will see firsthand the immense improvements and will never go on outdoor trips again without it.